Regional Surcharges
Due to larger than average infrastructure costs in this location, there is currently a surcharge applied to all orders to reflect the high cost of providing servers in this region. Even with this surcharge, GameServers.com makes every attempt to price our products competitively against similar products within this region.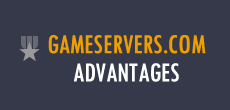 Largest Gaming Network
Choose from any of our worldwide locations across 6 continents

Control Panel Management
Manage your server directly from our customer portal

Secure Payment
Information encrypted with 2048 bit encryption

All Our Servers
Come With
Premium Hardware
24/7 Customer Support
Custom Control Panel Access
The Largest Worldwide Gaming Network
© GameServers.com, All rights reserved. High Quality Teamspeak, Ventrilo & Gameserver Hosting at Cheap Prices!