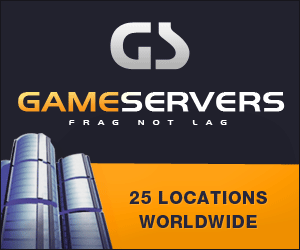 About GameServers
We're proud to be able to offer your clan free access to premium gaming servers for UGC League Match use, sponsored by GameServers.
GameServers is a leading game server provider with over 500,000 customers served since 2004. GameServers offers full technical support 24x7, one of the largest worldwide networks of game and voice servers, easy server management through a custom control panel, and much more.Click learn more for more information on GameServers.com and to get your clan your very own public or private server.
UGC recommends that Clans purchase a server of their own. Successful teams have a ready server available for their own practice and scrims.
To Claim a temporary use Game Server, Clans will need a valid Email address. Servers may be claimed for a limited Time Period of up to 3 hours. Servers are to be claimed no earlier than 20 minutes prior to your match time, servers can not be reserved in advance.
Game Server List
In order to make sure servers are available for matches, we restrict all users to claiming only one server per 24 hour period. Please be considerate and limit your use of the servers to UGC League matches.